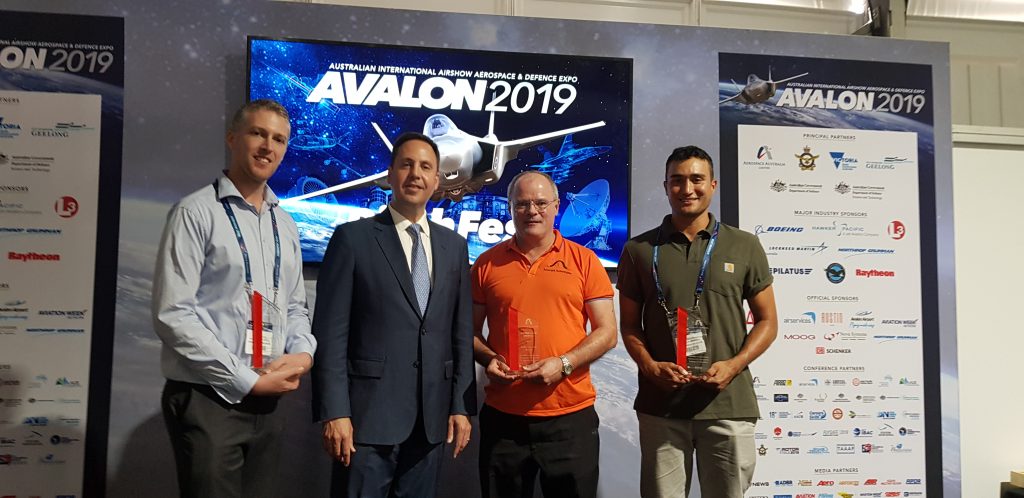 Left : Mr Marten Jurg (Additive Assurance), Minister for Defence Industry, the Hon Steven Ciobo MP, Dr John Arkwright (Arkwright Technologies) and Dr Amarin McDonnell (RMIT University).
The Innovation Pitchfest, organised by the Defence Science Institute (DSI) in partnership with Aerospace Australia Limited, the Defence Innovation Partnership (DIP) in South Australia and Defence Innovation Network (DIN) in New South Wales, took place on Tuesday 26 and Wednesday 27 February during Avalon 2019 in the Innovation Theatrette in Exhibition Hall 1.
Thirty (30) pitchers selected from industry, academia and Defence Science Technology Group each had three (3) minutes to pitch their innovations to a mixed audience of potential partners, customers, peers and venture funding sources.
This year's judging panel comprised of the following respected and expert members:
Mr Geoff Thomas – Corporate Financial Expert
Mr Andrew Garth – SME Consultant and ex GM of the CDIC
Mr Rich Shalders – Director Industry Development Unit, Raytheon Australia
Mr Roland Stephens – Senior Industry Specialist, Advanced Manufacturing and Defence – Austrade
The three winners for the 2019 DSI Avalon Innovation Pitchfest are:
Best Innovation Aerospace– Dr John Arkwright, Arkwright Technologies Pty Ltd (also the Strategic Research Professor in Biomedical Engineering at Flinders University.) Pitch Topic: "Inherently safe Fuel Quantity Indicator System"
Best Overall Innovation – Dr Amarin McDonnell, RMIT University. Pitch Topic: "A handheld platform for threat neutralisation and soldier countermeasure therapeutics"
Best Presenter – Mr Marten Jurg, Additive Assurance. Pitch Topic "Additive Assurance – Quality Assurance for Metal 3D Printing"