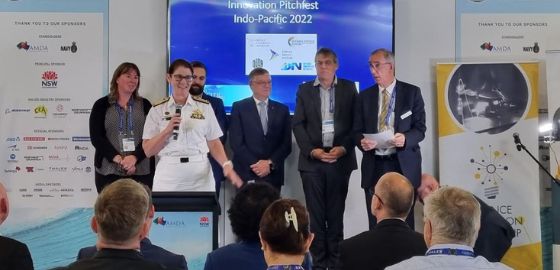 Innovation Pitchfest 2022 was held on 12 May as part of the Indo-Pacific International 2022, the largest defence industry event ever held in Australia. It was organised by the Defence Science Institute in partnership with AMDA limited, the Defence Science Centre, Defence Innovation Partnership, Defence Innovation Network, and Queensland Defence Alliance. 
All participants had a chance to present their new products and developmental projects to an audience of potential customers, research partners and investors.
Congratulations to the winners of Innovation Pitchfest 2022:
Best Presenter – Mr Mat Brown – Starboard Maritime Intelligence
Devious deviations: Real-time automated identification of suspicious vessels   
Best Overall Innovation – Mr Graeme Speak – BankVault
Invisible Passwordless Authentication
Best Maritime Innovation – Prof Sarah Zhang – Western Sydney University
High performance adhesive materials using innovative nanotechnology for defence infrastructure safety and resilience
Thank you to all the participants and the panel of judges who had a very difficult task.