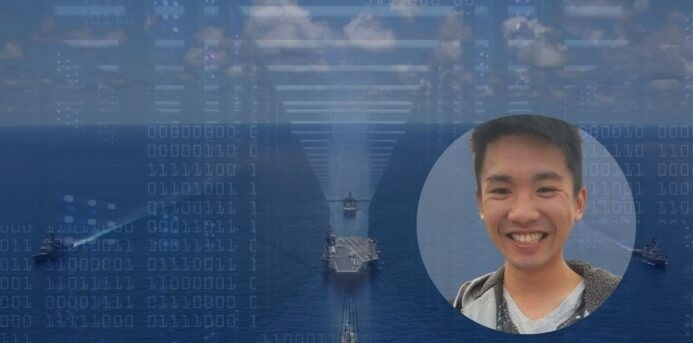 We are imagining a future, a future of autonomous and remotely operated vessels forming an integral part of the Australian maritime ecosystem.
People and goods will move easily around ports and to remote areas, hydrographic and oceanographic data will be efficiently collected. Undersea pipelines supporting our fuel systems will be monitored, in-water hull inspections will be less cumbersome. Ecological benefits will abound in being able to observe more of our national assets like the Great Barrier Reef. Naval patrols will be able to monitor and protect our national and international boundaries to secure our sovereign borders.
Research know-how
Shoal is laying the foundations for an autonomous maritime ecosystem by engaging with the NSW Government's Defence Innovation Network Internship Program. The internship enables young researchers to carve a niche into a defence career pathway. Our Defence Network Intern, is a highly-skilled PhD student, Tin Lai. Tin has joined Shoal's Research and Innovation team, Blue Water, for three months to boost our efforts in autonomous systems and AI / ML.
The NSW Defence Innovation Network (DIN) is a university-led initiative of the NSW Government and the Defence Science and Technology Group to enhance NSW Defence industry capability through collaboration with government and academic research institutions.
"It's fantastic to have the highly sought-after skills of Tin in our Blue Water team," said Chief Engineer Kevin Robinson.
"As a student of Computer Science and Civil Engineering, we are utilising Tin's skills in the 3-month internship to investigate the feasibility of using simulation derived training data for object detection with sonar."
Developing a simulation environment
This project relates to Signal Processing and AI, Autonomous Systems and Electronics capabilities of the Defence Innovation Network. Shoal has been conducting research and development under its Blue Water program into the assurance of autonomy of autonomous underwater vessels (AUVs). Sensory representative environments are critical to developing that assurance case, but also for developing algorithms for object detection. Such algorithms improve the effectiveness of teams that deploy AUVs by reducing the processing time and maximising survey time.
Tin is supporting Blue Water's efforts in autonomous systems and AI / ML by exploring techniques in generating synthetic data to train machine learning models, with a particular focus on the marine environment.
"I am interested in solving complex challenges while developing an elegant solution and algorithm. The world of abstract thinking brings the beauty of simplicity. To me, engineering is about simplifying complexity", said Tin.
Commercialising research
Shoal intends to implement the research and technology into its existing capabilities in modelling and simulation, AI / ML, and in assurance of autonomy. The Blue Water Research & Development program is working towards operationalising a real platform that supports all of the above examples starting with mine-countermeasures and underwater survey efforts. The impact on Australian industry will be the capacity to train, develop and assure the Machine Learning techniques and models for maritime applications.